Marknaden på Edinburgh Yarn Festival var verkligen av hög kvalitet med många små och stora utställare, många kändisar, handfärgade garner och verkligen små garnfabrikanter, här är bara ett urval:
Att få träffa Kate Davies kändes stort, så rar och så himla duktig. Jag är så imponerad.
Kärt återseende med Elizabeth.
Rara Hélène är det alltid lika glädjande att träffa!
Kul att The Knitting & Crochet Guild uppmärksammade Bohus stickning.
Ull från 8 gårdar på Ionawool.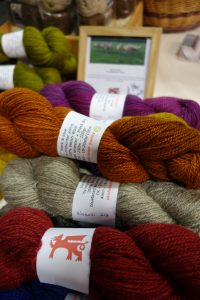 Midwinter Yarns sprillans nya garn med ull från Wales sålde i princip slut på mässan (jag lyckades knipa några grå härvor innan vi åkte hem).
Fint garn från ett litet spinneri på en liten ö i yttre Hebriderna kan väl inte vara fel.
Be Inspired besökte jag på mitt förra besök i Edinburgh, då blev det minkgarn, denna gång blev det handfärgat garn från en indiedyer i Edinburgh.
Brooklyn tweed…..
Daughter of a shepherd, här föll jag pladask.
Vår egen Anna med sina vackra handfärgade garner.
Som synes blev det både det ena och andra som fick följa med hem.