Är så glad att jag tog mej ut i gårdagens ruskväder och deltog i färgningseventet som slow creations (Petra) och Ania-Lu (Annika) anordnat.
De berättade och delade generöst med sig av sina erfarenheter av att färga naturligt.
Vi fick själva prova att färga med bär, växter, blommor och rostiga spikar.
Små paket knöts,
som sedan fick ligga i the eller lökavkok, både för färg och för betning.
Jag hade tre små paket med hem som fått vila över natten (det gäller att ha tålamod).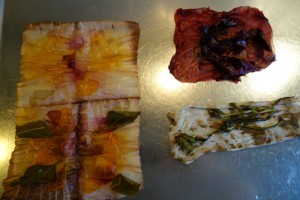 Det var som julafton att veckla ut och se resultatet. Det vänstra paketet innehöll kronblad från olika blommor och eukalyptusblad, det övre högra rödlöksskal och det nedre daggkåpa och ringblomma (utan blommor). De två första fick ligga i the och det sista i lökskalsavkok.
Fantastiskt mycket färg med så enkla medel. Var verkligen inspirerande och jag önskar nu ÄNNU fler timmar per dygn. Tack Petra och Ania-Lu!